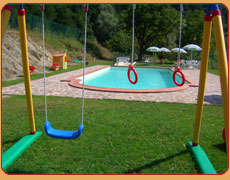 If you prefer to relax by the swimming pool while your children play in their special play area, I only hope you wont be disturbed by the sound of my tractor or the reaper... it's my job !

On demand, we organise courses of typical eugubine cooking using, naturally, our products, and musical therapy… once you have tried it you will never give it up.

Don't forget that our region is famous for the excellent white truffle: here you will find a controlled area where we have an experimental system to encourage the spontaneous growth of this tuber; if you want to take part in the search, I will be happy to help you with my dog, Kim.